Radio Time 90
LA RADIO UFFICIALE DEI TUOI ANNI 90!!!
La nuova radio in onda su Palermo sui 92,3 mhz Un vero e proprio canale tematico per tutti coloro che hanno vissuto gli anni 90. Gli ascoltatori potranno condividere tutti i loro ricordi, le loro esperienze e le idee sugli anni 90. Cronaca, costume, cultura, abitudini del decennio e, tanto altro ancora... EMOZIONI FORTI, DA RIVIVERE E DA RILANCIARE! Perch├Ę dal ricordo costruttivo del passato derivano idee ed energie per il futuro!
Recommended for you
add
WEB RADIO: 24/7 DELLA MIGLIOR MUSICA DAGLI ANNI '70 AD OGGI. WEB RADIO: 24/7 THE BEST MUSIC FROM THE '70's TILL NOW.
Advertising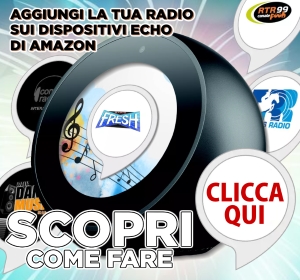 WEB RADIO ONLINE
Ascolta la Radio su WEBRADIO ONLINE!

WEBRADIO & RADIO FM avranno con WEBRADIOONLINE una opportunità in più di divulgare la propria presenza nei motori di ricerca. WEB RADIO ONLINE è un portale dedicato alle RADIO che trasmettono in streaming su Internet. (Internet Radio, Radio Online, Ascolta le Radio)
NOW ONLINE
Advertising
Go mobile (Coming Soon)
© WEB RADIO ONLINE una idea di Antonello Autore