Contact WRO
Contacts are Disabled
Per richieste di modifiche oppure informazioni, CLICCA QUI
Requests for changes or information, CLICK HERE
Start Your Station
Add your internet radio station on WEB RADIO ONLINE and create your own station page. Increase your exposure worldwide!
Add your station now
All Genres Available
Listen to all your favorite music by choosing your favorite genre on WEB RADIO ONLINE Jazz, Rock and Classical music one click away.
Browse genres
Easy to Use
All your favorite radiostations just one click away. Just choose your favorite radiostation and listen to the best radio stations in the world.
Start using
Would you like to have your own station on webradioonline.it?
Sign up now and promote your station to a worldwide audience.
Sign up
add
La web radio di musica Latina, Caraibica, Latin pop, con i pi├╣ grandi successi ed i pi├╣ grandi artisti Ti accompagneremo durante l'intera giornata con i nostri ritmi calienti e sensuali... Da una idea di Celeste Dj, fondatore e gestore negli anni 80/90 di diverse emittenti locali FM. Oggi si presenta al pubblico con questa nuova avventura radiofonica nel web.
Advertising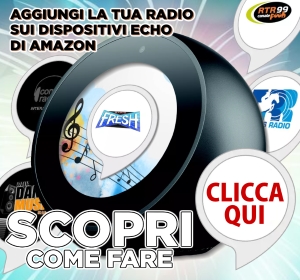 WEB RADIO ONLINE
Ascolta la Radio su WEBRADIO ONLINE!

WEBRADIO & RADIO FM avranno con WEBRADIOONLINE una opportunità in più di divulgare la propria presenza nei motori di ricerca. WEB RADIO ONLINE è un portale dedicato alle RADIO che trasmettono in streaming su Internet. (Internet Radio, Radio Online, Ascolta le Radio)
NOW ONLINE
Advertising
Go mobile (Coming Soon)
© WEB RADIO ONLINE una idea di Antonello Autore