on-line, on-air, on-site Radio Art - Transmission Explorers USMARADIO is the the radio of the University of the Republic of San Marino. A radio station - founded and directed by Roberto Paci Dalò, with the collaboration of Stefano Spada, Alessandro Renzi, Simone Angelini, Francesco Paolini together with students and teachers - within the spaces of the Antico Monastero Santa Chiara. USMARADIO has a 24/7 programming with hosts in various places (Europe, USA, China, India, a.o.) that broadcast programs also live through applications that allow to manage micro radio studios hosted by smartphones. Online, on-air, on-site USMARADIO is devoted to Radio Art and transmits everything that does not feel the normal network and on mainstream radio. USMARADIO is a workplace of The School of Radio / Scuola di Radiofonia to develop an innovative radio pedagogy. Workshops, work sessions, meetings, presentations of live performance as sections of the project. The theory and practice of radio: radio art, sound art, contemporary art, web radio, field radio, radio and telematics, network projects, relationship with the text, soundscape, software and hardware, live radio and live media, radio space as a place of performance, the relationship between image and sound, media design. A radio designed for the training of artists, technicians and scientists for the invention of the possible professions the absence so far of places of education, who works on the spread of radio knowledge of its history, its techniques, its (often still unexplored) possibilities in the mediascape of this. USMARADIO supports Creative Commons licenses and the open source philosophy. An area of ​​the site is dedicated to free and freely usable downloadable audio materials.
Listening from zones (IP) this year
Recommended for you
add
Radio Mela la sfida tra il web e la radio… Un cambio di passo che nasce dal desiderio di rimanere attivo nel campo della comunicazione radiofonica ma soprattutto nel sentirsi coinvolti in un settore nuovo e stimolante come il web. Radio Mela è una realtà importante che può vantare le collaborazioni di speakers e djs che trasmettono in diretta da studi sparsi per tutta Italia La radio è tematica con la programmazione basata su una playlist di musica anni 80/90 principalmente da ballo.
Advertising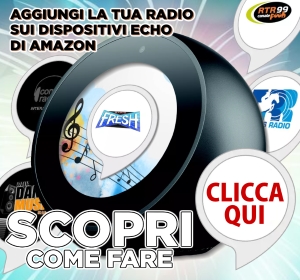 WEB RADIO ONLINE
Ascolta la Radio su WEBRADIO ONLINE!

WEBRADIO & RADIO FM avranno con WEBRADIOONLINE una opportunità in più di divulgare la propria presenza nei motori di ricerca. WEB RADIO ONLINE è un portale dedicato alle RADIO che trasmettono in streaming su Internet. (Internet Radio, Radio Online, Ascolta le Radio)
NOW ONLINE
Advertising
Go mobile (Coming Soon)
© WEB RADIO ONLINE una idea di Antonello Autore