Radio Zeta
Radio Zeta. Balla la vita!
Ci trovate in FM, sulla app, su http://www.radiozeta.it e sul canale digitale 266 e in HD sul 766 di Sky
Recommended for you
add
WEB RADIO: 24/7 DELLA MIGLIOR MUSICA DAGLI ANNI '70 AD OGGI. WEB RADIO: 24/7 THE BEST MUSIC FROM THE '70's TILL NOW.
Advertising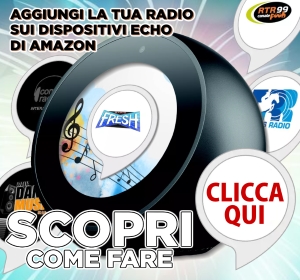 WEB RADIO ONLINE
Ascolta la Radio su WEBRADIO ONLINE!

WEBRADIO & RADIO FM avranno con WEBRADIOONLINE una opportunità in più di divulgare la propria presenza nei motori di ricerca. WEB RADIO ONLINE è un portale dedicato alle RADIO che trasmettono in streaming su Internet. (Internet Radio, Radio Online, Ascolta le Radio)
NOW ONLINE
Advertising
Go mobile (Coming Soon)
© WEB RADIO ONLINE una idea di Antonello Autore