Italian Graffiati
Playing the biggest Italian Music of the 60s and 70s - Live from Montréal
IF you came to us looking for free 60s and 70s Italian music online, you came to the right place! Every day, the best italian artists such as: Adriano Celentano, Al Bano, Alunni Del Sole, Bobby Solo, Bruno Lauzi, Caterina Caselli, Claudio Villa, Collage, Cugini di Campagna, Dik Dik, Domenico Modugno, Gabriella Ferri, Gianni Morandi, Gino Paoli, Massimo Ranieri, Mina, Raffaella Carra', Ricchi e Poveri, Toto Cotugno and many others.
Listening from zones (IP) this year
Recommended for you
add
Radio Mela la sfida tra il web e la radio… Un cambio di passo che nasce dal desiderio di rimanere attivo nel campo della comunicazione radiofonica ma soprattutto nel sentirsi coinvolti in un settore nuovo e stimolante come il web. Radio Mela è una realtà importante che può vantare le collaborazioni di speakers e djs che trasmettono in diretta da studi sparsi per tutta Italia La radio è tematica con la programmazione basata su una playlist di musica anni 80/90 principalmente da ballo.
Advertising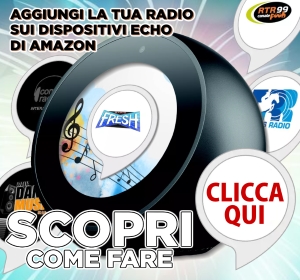 WEB RADIO ONLINE
Ascolta la Radio su WEBRADIO ONLINE!

WEBRADIO & RADIO FM avranno con WEBRADIOONLINE una opportunità in più di divulgare la propria presenza nei motori di ricerca. WEB RADIO ONLINE è un portale dedicato alle RADIO che trasmettono in streaming su Internet. (Internet Radio, Radio Online, Ascolta le Radio)
NOW ONLINE
Advertising
Go mobile (Coming Soon)
© WEB RADIO ONLINE una idea di Antonello Autore