Italia Network Dance Radio
STAY TUNED!
Only trend dance techno and trance music from the 90s and 2000s. Single and mixed tracks 24 hours a day for 7 days.
Listening from zones (IP) this year
Recommended for you
add
Radio Mela la sfida tra il web e la radio… Un cambio di passo che nasce dal desiderio di rimanere attivo nel campo della comunicazione radiofonica ma soprattutto nel sentirsi coinvolti in un settore nuovo e stimolante come il web. Radio Mela è una realtà importante che può vantare le collaborazioni di speakers e djs che trasmettono in diretta da studi sparsi per tutta Italia La radio è tematica con la programmazione basata su una playlist di musica anni 80/90 principalmente da ballo.
Advertising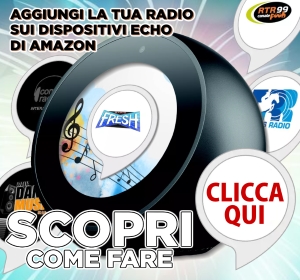 WEB RADIO ONLINE
Ascolta la Radio su WEBRADIO ONLINE!

WEBRADIO & RADIO FM avranno con WEBRADIOONLINE una opportunità in più di divulgare la propria presenza nei motori di ricerca. WEB RADIO ONLINE è un portale dedicato alle RADIO che trasmettono in streaming su Internet. (Internet Radio, Radio Online, Ascolta le Radio)
NOW ONLINE
Advertising
Go mobile (Coming Soon)
© WEB RADIO ONLINE una idea di Antonello Autore