Garage Radio
La Tua Radio, Ovunque!
Garage Radio ├Ę una web radio che nasce dalla passione per lo speakeraggio e la musica ROCK nel 2014 dentro un vero e proprio garage, in provincia di Pisa. Oggi costituita Associazione Culturale grazie ai suoi numerosi iscritti ed appassionati ascoltatori, ├Ę una web radio vissuta ed impostata come una radio tradizionale, con studio digitale ed una sede fisica vera e propria dalla quale ogni speaker associato produce e conduce rigorosamente in diretta il proprio programma.
Recommended for you
add
WEB RADIO: 24/7 DELLA MIGLIOR MUSICA DAGLI ANNI '70 AD OGGI. WEB RADIO: 24/7 THE BEST MUSIC FROM THE '70's TILL NOW.
Advertising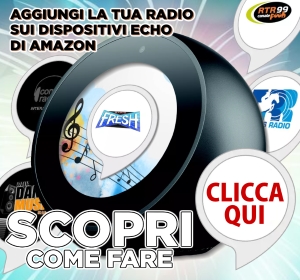 WEB RADIO ONLINE
Ascolta la Radio su WEBRADIO ONLINE!

WEBRADIO & RADIO FM avranno con WEBRADIOONLINE una opportunità in più di divulgare la propria presenza nei motori di ricerca. WEB RADIO ONLINE è un portale dedicato alle RADIO che trasmettono in streaming su Internet. (Internet Radio, Radio Online, Ascolta le Radio)
NOW ONLINE
Advertising
Go mobile (Coming Soon)
© WEB RADIO ONLINE una idea di Antonello Autore