About WRO
why i created WRO
Mi presento, sono Antonello Autore, un appassionato informatico che si definisce "un tuttologo del piffero" e che per passione ancora studia quello che la tecnologia mette a disposizione in ambito software.
Ho voluto creare WRO innanzi tutto perchè amo la musica in tutte le sue 'sfumature', poi perchè resto ancora oggi affascinato dell'aggregatore che si posiziona tra i più diffusi al Mondo qual'è TUNE IN. Negli ultimi anni ho avuto la possibilità di aiutare diverse RADIO presenti in rete a realizzare un sito in grado di soddisfare graficamente il visitatore e cercando di migliorare la propria presenza in rete con un minimo di ottimizzazione SEO.
Ma poi mi sono accorto che non bastava ed ho voluto fare qualcosa in più, aiutarle a farle conoscere, aiutarle ad essere facilmente ricercabili per le proprie parole chiavi (es.slogan), questo e tanto altro aggregandole in un unico portale a cui avrei dedicato una maggiore attenzione nella diffusione nei motori di ricerca analizzando singole parole chiavi (es.Internet Radio, Radio Online) e creando sezioni e funzionalità che accrescessero la popolarità di ogni singola RADIO che ne facesse parte (es. RANKER Chart).

Anche se le idee non mancano però il tempo da dedicarci è sempre limitato, ma chi crederà nel progetto, sono certo che sarà ricompensato con alcuni benefici con l'avere a disposizione una "leva" in più qual'è WRO, che si pone come obiettivo principale:


Note: L'iscrizione al WEB RADIO ONLINE è volontario. Tutte le RADIO presenti hanno effettuato esplicita richiesta.
Oggi su WEB RADIO ONLINE ci sono:
465 RADIO
8 CATEGORY
16 RECOMMEND RADIO
76400 RECORDED SONGS
add
WEB RADIO: 24/7 DELLA MIGLIOR MUSICA DAGLI ANNI '70 AD OGGI. WEB RADIO: 24/7 THE BEST MUSIC FROM THE '70's TILL NOW.
Advertising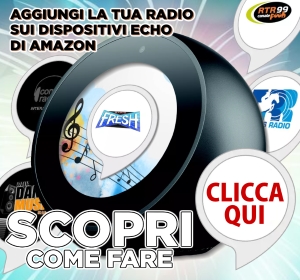 WEB RADIO ONLINE
Ascolta la Radio su WEBRADIO ONLINE!

WEBRADIO & RADIO FM avranno con WEBRADIOONLINE una opportunità in più di divulgare la propria presenza nei motori di ricerca. WEB RADIO ONLINE è un portale dedicato alle RADIO che trasmettono in streaming su Internet. (Internet Radio, Radio Online, Ascolta le Radio)
NOW ONLINE
Advertising
Go mobile (Coming Soon)
© WEB RADIO ONLINE una idea di Antonello Autore